JeansY
JeansY
---
---
JeansY, 2022
80 x 80 cm
acrylic on canvas
the painting was exhibited at Camden Image Gallery, London, "ZONES OF IMMATERIAL SENSITIVITY"
published in the international magazine "The World of Interior", VOGUE
About the artist
Born in 1983, Voronezh, Russia
Education:
2000 - 2006 University of Art&Design, MgA. in Graphic design, Voronezh, Russia, studio of grafic design, studio of J.V. Eroshenko, academic artist
1990 - 2000 Gymnasium of liberal arts, Voronezh, Russia
1992 - 1996 Art school named after E.M. Belyaev, Bryansk, Russia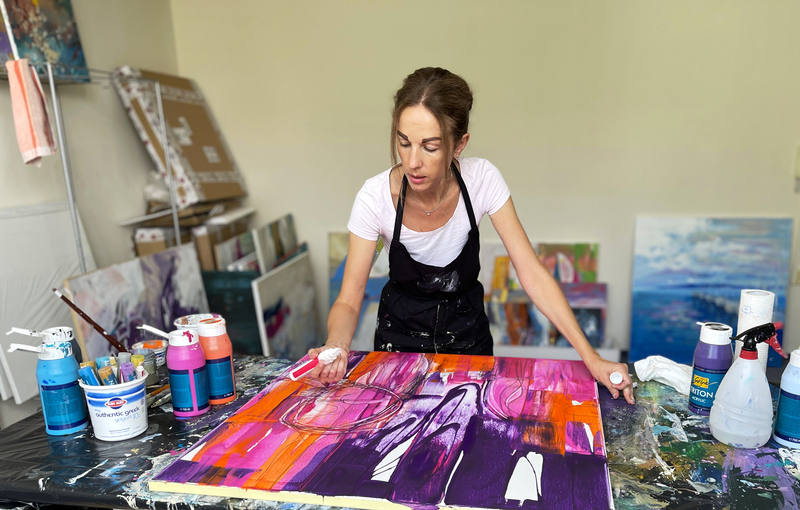 My motto: "Each and every single project is a unique exploration of curiosity and experimentation." E. Z.
Solo exhibitions:
2022 Opening, IMPACT HUB Brno, CZ
2021 Art gallery at MK gallery, Brno, CZ
2020 Presented at Beauty&Art studio MYTON, Brno, CZ
Group exhibitions:
2022 Flower Obsession, MyMicro Gallery, Milan, Italy.
2022 Flower Obsession, Stefania Carrozzini Gallery, Venice, Italy
2022 Art & Wine Festival at Dürnstein Abbey, Austria
2022 Zones of Immaterial Sensitivity, Camden Image Gallery, London, GB
2007 International ART&design festival, Moscow, Russia
2006 Final diploma exhibition "Impact of Design" at the University studio, Voronezh, Russia
2005 International design exhibition "Best graphic design of the year", Moscow, Russia
2005 exhibition "Beyond reality", Voronezh, Russia
2004 Voronezh plainair, VI Intercity artistic symposium, Voronezh, Russia
2004 annual exhibition "Start" at the University atelier, Voronezh, Russia
2002 student exhibition at the University studio, Voronezh, Russia
Appraisal and presentation:
2022 Article at international magazine "The World of Interiors", VOGUE House, London. (May, June and July issue)
2022 Workshop " Intuitive abstraction", Jeseník, Czech Republic
2022 Tea at five, presentation in BIEGUN, Brno
2021 Artmajeur: appraisal for selected artwork of the mounth by French curator and editor Nicolas Sarazin ("Cocktail V", 2021, acrylic on canvas)
2021 Artmajeur: selection of the best artworks by French curator and editor Nicolas Sarazin ("Pink glasses", 2021, acrylic on canvas)
2015 workshop "Art of nature" at the business conferention, Slovak Tatras

2021 presentation at Volvo showroom, Prague, CZ