Dog Torso
Dog Torso
---
---
Dog Torso, 2013
dimensions vary between:
w  14 - 18 cm
h  15 - 17 cm
l  38 - 42 cm

weight  2 kg / 4 lb
ceramics
 
Choice of 2 leg positions:
front paws point forward / front paws point backwards
Choice of 4 colours:
russet / red / ochroid / anthracite
Production time: 4 weeks
About the artist
Born:
1990, Prague, Czech Republic
Education:
2016 – till now Academy of Fine Arts in Prague, Studio of Figural Sculptures and Medals of prof. Vojtěch Míča
2009 - 2015 SCULPTURE, Academy of Fine Arts in Prague (Studio of Figural Sculptures and Medals of prof. Jan Hendrych), CZ
2013 SCULPTURE, Royal Academy of Fine Arts Antwerpen, BE
Selected Exhibitions:
2020 VáclavART, Sochy Na Příkopech, Praha
2019 Festival Boskovice
2019 Umění a Odpad Odpad a Umění 05, Art Space NOV, Pardubice
2019 Léto se sochami, Pirna – Děčín
2019 Pohyblivá sochařská alej, Galerie Bubec, Praha
2018 Akce Kulový blesk, Zámek Valdštejnů v Litvínově
2018 Stopped Motion, Činoherní studio, Ústí nad Labem
2017 (3) Velíšci, Dobrš
2016 Junge Kunst 2016, Kunstprojekt der Sparkasse Passau,
2016 St. Anna - Kapelle, Pasov
2015 Expo 2015, Go-Green-Art Gallery, Milan, IT
2014 Sculptures on the Car Park, Malostranske Square, Prague, CZ
2014 As If Nothing's Happened, Galerie GAVU, Praha, CZ
2014 Art Prize of the Jabberwocki Foundation for Education and Art, Czech Centre Berlin, DE
2013 Adams, U Kunstatu Gallery, Prague, CZ
2013 Bubec Strikes Back, Old Town Hall in Prague, CZ
Awards:
2011 2nd place at Holzbildauersymposium FLUR 2011, Riedelhof, DE
News about the work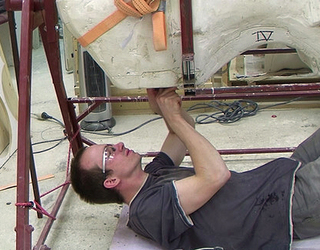 When we asked Adam about his inspiration, we were pleasantly surprised by his answer. The young artist gets ideas for his ultra-modern sculptures from the arts of the distant past. Adam's sculptures are rich in cultural and historical references and draw...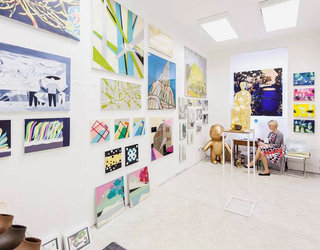 Near the Old Town Square in Prague, the biggest Czech Art Fair, Art Prague, took place from 15th to 20th March 2016. In Franz Kafka House, where it was held, there were four floors filled with the best, Czech contemporary art. Young Real Art didn't miss the...