Freedom within Rules
Freedom within Rules
---
---
Freedom within Rules, 2016
190 x 140 cm
oil on canvas
About the artist
Born:
1984, Frydlant, Czech Republic
Education:
2010 - 2016 MgA. Fine Art - Academy of Fine Arts in Prague (Painting Studio of doc. Michael Rittstein), CZ
Solo Exhibitions:
2020 Udrž mě tam, kde je světlo, Champagneria, Praha, CZ
2017 Za pátou kolonou v Bohnicích, Galerie Goethe, Mariánské Lázně, CZ
2017 Baumax X Bohnice X AVU, Galerie Pod Palmovkou, Praha, CZ
2016 Pul Oneself Together, Kolona 5 Club, Prague, CZ
2015 Miscomprehension and Empathy, Artamira Gallery, Prague, CZ
2014 Jan Harant - Paintings, Studio Alta, Prague, CZ
2011 We're Leaving the World Behind Us, We're learning to Fly, Liberec Library, CZ
2009 Hop or Trop, U rytire Gallery, Liberec, CZ
Selected Group Exhibitions:
2020 Art Prague, Young Real Art, Praha, CZ
2019 Malba III, Galerie Vltavín, Praha, CZ
2018 Internal Dialogue, MKD, Mělník, CZ
2018 CZAS, Biuro Wystaw Artystycznych, Jelenia Góra (Poland))
2016 Vanity Fair - Final Show of the University of Arts in Prague, National Gallery in Prague, CZ
2014 I Walked Past an Apple Tree, Nakladove nadrazi Zizkov, Prague, CZ
2014 In a Half, Via Art Gallery, Prague, CZ
2013 Winter Compost, ArtAtak Gallery, Prague, CZ
2012 Twelve Years of the Painting Studio of doc. Michael Rittstein, Embassy of the Czech Republic in Wienna, AU
Awards:
2014 Kunstpreis der Leinemann-Stiftung, Czech Centre, Berlin, DE
News about the work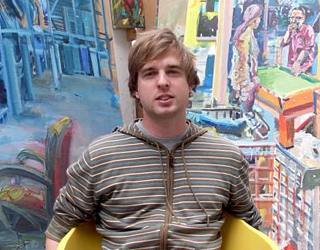 The vibrant colours in Jan's paintings represent happiness and good times, however, sometimes it can be hard to put up with difficulties in life. A couple of years ago Jan spent some time attending mental health therapy to overcome depression, caused by lack of love...