About the artist
Born:
1987, Hustopece, Czech Republic
Education:
2009 - 2013 FINE ART, Brno University of Technology (Studio of painting of prof. ak. mal. Martin Mainer & Studio of Intermedia of doc. Vaclav Stratil, prom. ped.), CZ
2012 - 2013 FINE ART, Academy of Fine Arts and Design in Bratislava (The Fourth Studio of Painting and Other Media of prof. Ivan Csudai, ak. mal.), SK
Selected Solo Exhibitions:
2022 The Doors of Perception, Galerie Zezuly, Brno, CZ
2014 Who Am I, Where Do I Come From, Where Do I Go, Hustopece Museum and Art Gallery, CZ
2013 Move, Mainerova Gallery, Prague, CZ
2012 Experience, Possible, Slevarna Gallery, Brno, CZ
2011 Bright Light, Vlnena Gallery, Brno, CZ
2010 Once You Walk on Path, Don't Go Ashtray, Stary Pivovar Arts Centre, Brno, CZ
Selected Group Exhibitions:
2022 Modeta, Městské divadlo, Brno, CZ
2019 Visionaria, Galerie města Třinec, Třinec, CZ
2016 Art Prague 2016, Kafka's House, Prague, CZ
2012 Meeting, Milan Zezula Gallery, Brno, CZ
2011 Artbank - Kick off, Dvorak Sec Contemporary, Prague, CZ
2011 Carry on, Gallery of Chodovska Tvrz, Prague, CZ
2010 Brno Is Berlin, Berlin Is Brno, Aula Gallery, Brno, CZ
News about the work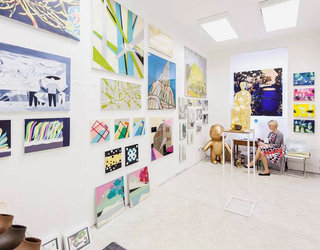 Near the Old Town Square in Prague, the biggest Czech Art Fair, Art Prague, took place from 15th to 20th March 2016. In Franz Kafka House, where it was held, there were four floors filled with the best, Czech contemporary art. Young Real Art didn't miss the...