Sunset on the North Coast
Sunset on the North Coast
---
---
Sunset on the North Coast, 2022
40 x 52 cm
oil on canvas
I didn't even have to go anywhere to paint this scene. I captured it from the apartment window. It's a swiftly painted picture, but it contains everything necessary. The roaring ocean is suggested by a bunch of simple, chaotic brush strokes that convey its wild nature. T. H.
About the artist
Born in 1989 in Prague
Education:
2012-2015 Academy of Fine Arts, atelier: Painting, Michael Rittstein, Prague
2012 Academy of Fine Arts in Prague, atelier: Painting, Zdeněk Beran, Prague
2009 - 2011 Academy of Fine Arts in Prague, atelier: Drawing and Graphics Jiří Lindovský, Prague
2001 - 2009 General Gymnasium Špitálská, Prague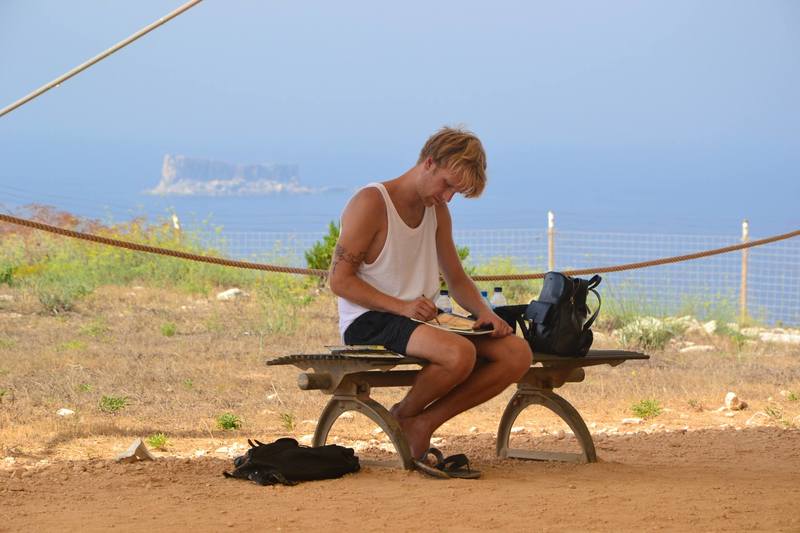 Internships:
2018 Sympozium Felixe Jeneweina, Kutná Hora
2014 Taipei National University of Arts, Tchaiwan
2013 The Art Department, USA
Selected Solo Exhibitions:
2019 Night and Day, Galerie ViaArt, Prague
2019 Mythical Landscapes (Paintings), City Gallery of Kolín, Kolín
2018 Chrudimsko, Galerie Art, Chrudim
2017 Myths from the Old World, Galerie Viaart, Prague
2016 Our neighbourhood / My world , Galerie 9, Prague
2016 Unreality, Galerie Magazín, Terezín
2014 Secret Landscapes, Galerie Art, Chrudim

Selected Group Exhibitions:
2019 Malba III, Galerie Vltavín / Galerie Millenium, Prague
2019 Dialogs, Gallery of Kooperativa, Prague
2019 Krajinow, Museum of Art and Design, Benešov
2019 Temple of Beautiful Places, Jan Čejka Gallery, Prague
2018 Sympozium, Galerie Felixe Jeneweina, Kutná Hora
2018 Dawn, Gallery of Eastern Bohemia, Pardubice
2017 In a Landscape, City Gallery of Brno, Brno
2017 Landscape 2017, Nová Galerie, Prague
2016 Žák, Sedlo, Honz, Wojnar, Gallery of AVU, Prague
2016 In a Landscape, European Arts gallery, Prague
2015 Voda hučí, bory šumí, Nákladové Nádraží Žižkov, Prague
2015 Graduates of AVU, National Gallery, Prague
2015 Na Půl, Galerie ViaArt, Prague
2013 Zimní Kompost, Galerie Artatak, Prague
Publications:
Dialogs, Expose 11, ImagineFX, Contemporary As Seen by Martin Fryč, Krajem Chrudimky and more...