Jan Heres
Published 2022-09-12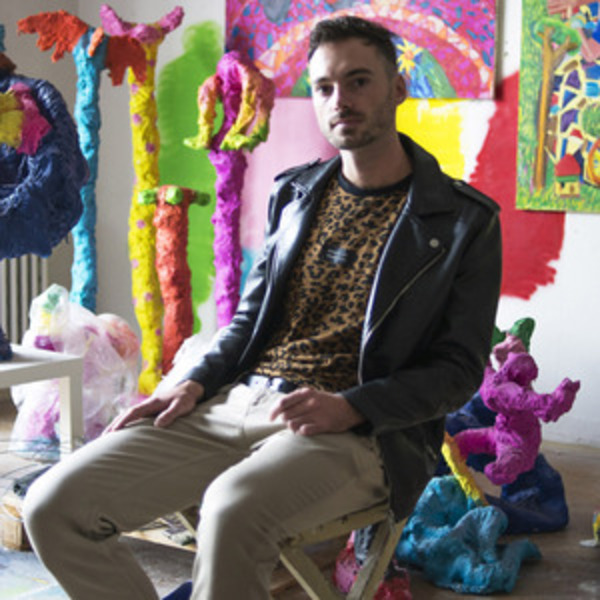 Would the canvases of Paul Gauguin revel in so many colors if, instead of the Pacific, he had traveled to the North? Probably not. But it's not the colors that change the closer you get to the equator. Although the tropics most certainly offer a more diverse pallet of shades, the main difference stems from the lighting conditions there, which make colors more vibrant and brighter.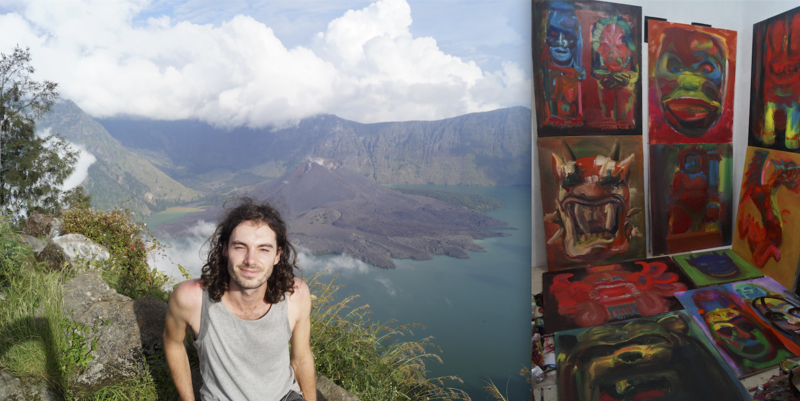 Therefore, it is no coincidence that a turning point in the work of Jan Heres came when he spent a year studying in Indonesia. Influenced by entirely new, intense sensorial experiences, here he for the first time abandoned real models and began painting from memory. The main motif of his paintings became traditional Javan ritual masks, whose magical, and partially demonic, nature he underlines with nearly poisonously sharp shades of red, orange, green, and blue.

Jan's definitive departure from the earthy, muted Central European color pallet was later confirmed by another long stay in the South, this time in Valencia, Spain. Here he lived in the El Cabanyal neighborhood, which despite being directly next to the sea has resisted the devouring power of the booming beach resorts and preserved its authenticity. His main inspiration became the dramatic contrast between the slums and the expansive, all-pervasive tourism industry.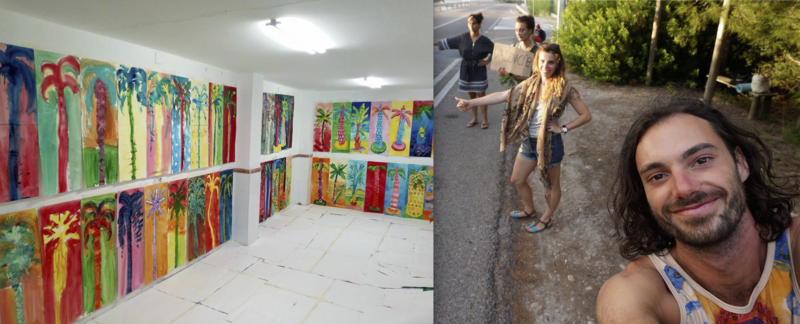 On one hand, he created spellbinding portraits of local Roma inhabitants; on the other hand, he observed the anonymous faces and figures at the beach that changed at regularly weekly intervals. Here his interest in the human figure fully developed. Captivated by the magic and poetry of banal beach scenes, he created quick genre sketches that he later used for his paintings. He mastered this procedure and began using it in his later work, when he fully abandoned real models and photography, and through schematizing and simplifying his sketches, he ascertains the shapes that appear.

In his work, Jan proceeds intuitively, letting himself be guided by the process of painting and giving free rein to his unconsciousness. Although the basic features of his artistic style, such as the luminous colorfulness or the high degree of stylization, remain fully unchanged, his work is not static and resists stereotyping. Boschian canvases painted to the last detail have thus been replaced by simple colorful surfaces intentionally negating spatiality and depth, and thanks to his work with silkscreen printing, for the first time even white spaces begin to appear in his works. For Jan, color is primarily a vehicle of emotion and is closely connected with how he experiences the subjects of his paintings and also the creative process in general. The combination of acrylic and oil paints lets him take advantage of both techniques, and by following the right procedure he can eliminate both of their shortcomings. In addition, he also frequently uses spray paint and makes objects out of paper or plaster.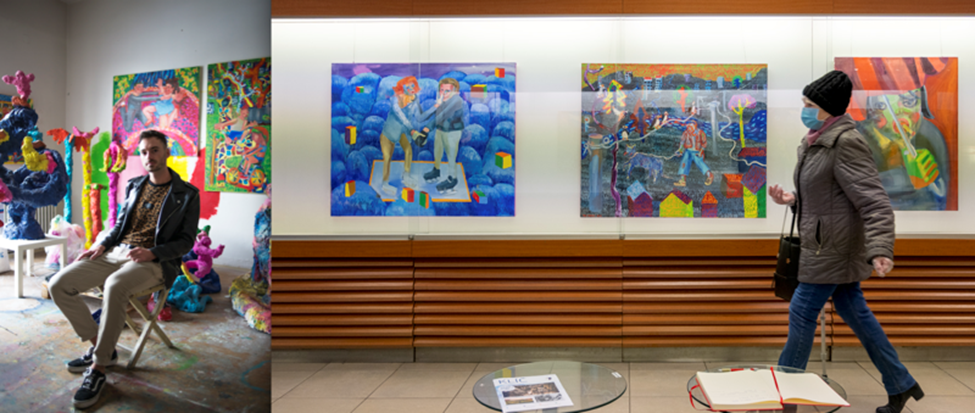 The subjects of his paintings are generally related to what he is currently experiencing and where he is. After returning to the Czech Republic, palm trees and surfers were naturally replaced with scenes emanating from his immediate surroundings, when, for example, he often focuses on themes related to the intimate aspects of living with a partner and the relationships between men and women. Interaction between people and their surroundings, however, is not a new theme in his work. He already addressed this issue when studying at the Academy of Fine Arts in Prague. Thus, it seems that even though Jan is constantly drawing on new impulses and dynamically changing the styles and forms of his artistic expression, his canvases provide evidence of his deep, enduring interest in interpersonal relationships in their endless variations.
text: Kamila Huptychová
Photo: courtesy of the author
Artists in the post
Works in the post
More posts